Once, in a holy place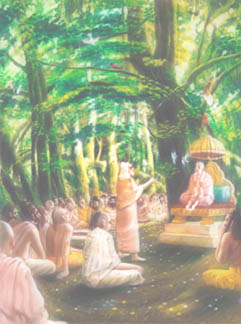 in the forest of Naimisaranya, great sages headed by the sage Saunaka assembled to perform a great thousand-year sacrifice for the satisfaction of the Lord and His devotees.
One day, after finishing their morning duties by burning a sacrificial fire and offering a seat of esteem to Srila Suta Gosvami, the great sages made inquiries, with great respect, about the following matters. The sages said, "Respected Suta Gosvami, you are completely free from all vice. You are well versed in all the scriptures famous for religious life, and in the Puranas and the histories as well, for you have gone through them under proper guidance and have also explained them. Being the eldest learned Vedantist, O Suta Gosvami, you are acquainted with the knowledge of Vyasadeva, who is the incarnation of Godhead, and you also know other sages who are fully versed in all kinds of physical and metaphysical knowledge. And because you are submissive, your spiritual masters have endowed you with all the favors bestowed upon a gentle disciple. Therefore you can tell us all that you have scientifically learned from them."
"Please, therefore, being blessed with many years, explain to us, in an easily understandable way, what you have ascertained to be the absolute and ultimate good for the people in general."